Need a little break from your partner or your kids? Are you tired of eating the same dishes week after week? After more than a month of confinement on site, many of us are doing it. To help, local illustrator and entrepreneur Cagen Luse is providing comic relief as he tackles the everyday during the pandemic with his LunchTime ComiX comic book series "The New Normal."
The comics are posted to social media weekly and explore our new normal, highlighting everything from losing track of the day to family reunions on Zoom. In one scenario, a father looks out the window and wishes he could go somewhere. His wife reminds him that he has never been anywhere before. But still, he insists, "I miss the option of going places."
This sentiment is one of many that readers could relate to right now. Social distancing, incessant snacking, and internal workspace issues are also examined. The coronavirus-centric series appears weekly on DigBoston.
LunchTime ComiX focuses on the life and family of Luse and aims, at least in part, to document the "racially ambiguous experience", which he shares. Luse doesn't recall seeing many images of a family like his in the media as a child, and in his hometown of Searsmont, Maine, he recalls "being the only mixed child or color in my school for the most part and it was a very lonely experience," he says. "I wanted to reach out and let people know that they are not alone and that there are a multitude of different experiences and that is mine."
The idea for LunchTime ComiX stemmed from a self-imposed challenge to develop a comic each week using his one-hour lunch break. After completing the strips, Luse shared them on Facebook in 2016. The positive response was overwhelming.
At that point, Luse – a married father of two – says he just kept going. "Then it turned into something much more than doodling at my desk. … I was looking for my own experiences and revealing myself in a way that I had never done before and … it turned into something much bigger than I expected.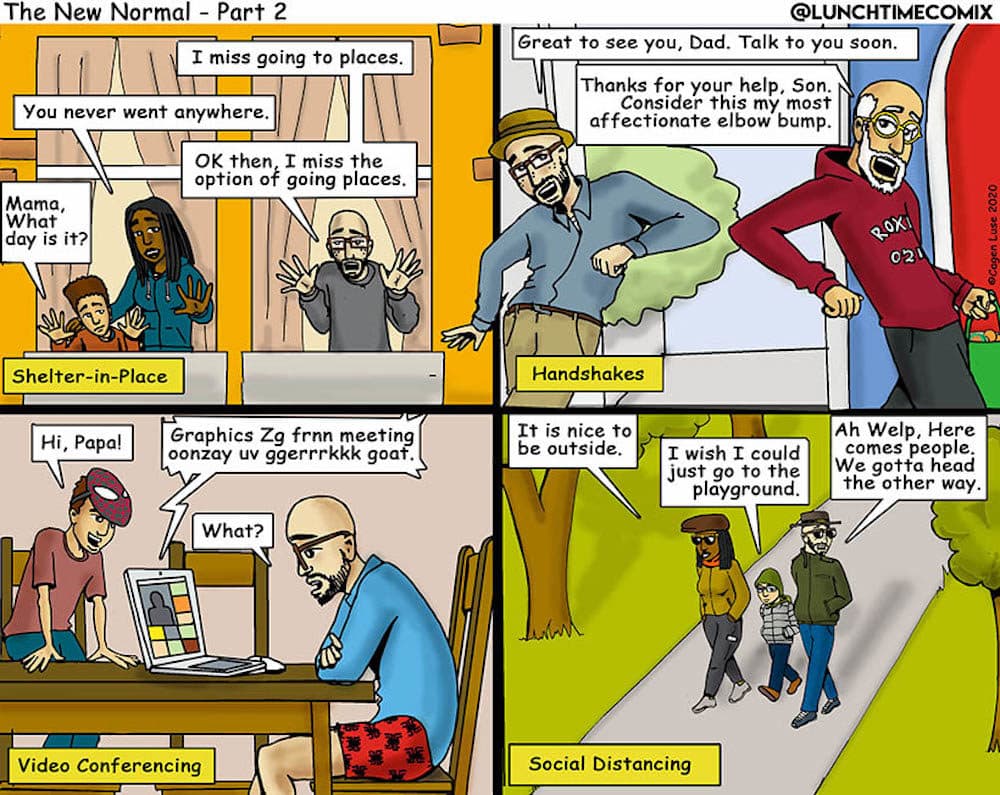 This ability to share the intimate with the mundane without being heavy is part of the appeal of LunchTime ComiX. The development of the tape is an ongoing process, Luse says. He "writes them constantly in my head". Then he gets down to "cutting them into miniatures and making the artwork." Being home with his family 24 hours a day led to a wave of creativity.
Luse's love for comics dates back to her childhood. As a shy child brimming with imagination, Luse spent her time working on art and devouring comic books like "Garfield", "Calvin & Hobbes" and later "The Boondocks". For the comics, Luse singles out "X-Men" and "GI Joe" as favorites in the late '80s and early '90s.
Although he has worked on art for most of his life, sharing it only became a reality about six or seven years ago. After high school, he first attended the Atlanta College of Art in 1994 (which has since been absorbed into the Atlanta campus of the Savannah College of Art and Design), but had to suspend college to start working to support his growing family. .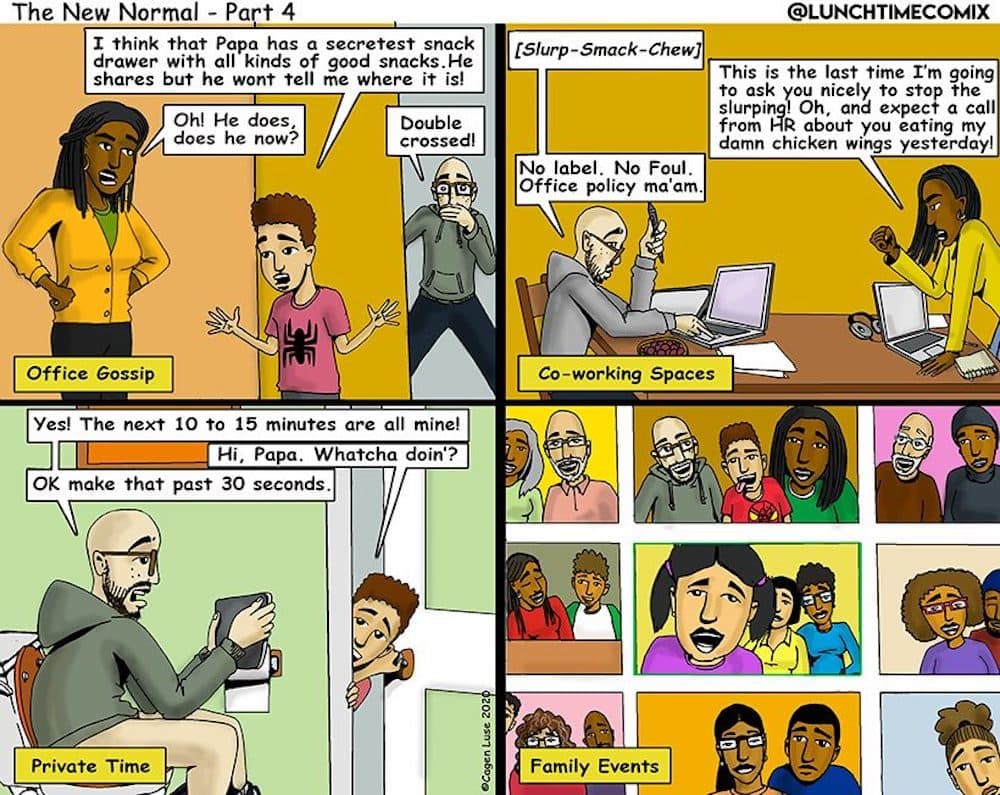 Later, he returned to school and received his bachelor's degree from the University of Massachusetts in Boston. It was then that Luse began to see himself as a true artist working, developing and selling his own work. Since then, Luse has worked diligently to promote her art. He sells prints, comics and t-shirts that depict Roxbury and celebrate racial ambiguity through his Etsy store, 950Design. Luse has also been a vendor at local events such as Roxbury Open Studios, Boston Night Market, and the Boston Art & Music Soul Festival.
By exhibiting his art and selling, Luse has learned "that people want to know what the story is, why you created the artwork," he explains. "It really taught me to talk about my works and let people in."
In addition to LunchTime ComiX, Luse and her business partner Barrington Edwards, an artist and teacher, founded Boston Comics in Color (BCIC) with a mission to produce free and accessible events, educate creators of color, and empower and to support artists of color. to tell their own stories. Before the pandemic, the group met regularly in Dorchester at the Grove Hall branch of the Boston Public Library. Luse and Edwards and other team members were planning to hold their first Boston Comics in Color Festival on April 4 at the Reggie Lewis Track & Athletic Center and had already sold nearly 500 tickets. The festival is postponed due to COVID-19.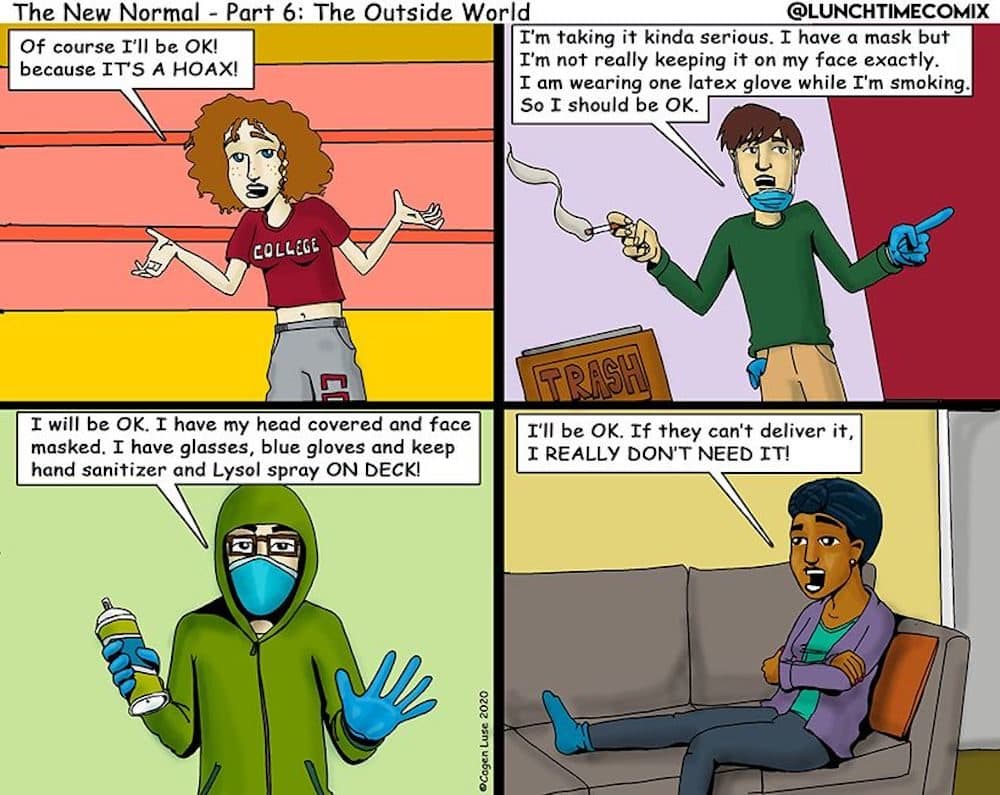 Jean Binjour Jr., a comic book enthusiast, gamer and professor at the Boston Arts Academy, attended BCIC meetings fairly regularly. He was grateful to have a space where he could speak freely about his passions and "I can be myself as much as possible," he says. At one session, local talent Tak Toyoshima was the featured guest. Toyoshima developed the popular and syndicated comic strip "Secret Asian Man".
Toyoshima first discovered Luse's work through DigBoston, where he worked as a creative director years ago, he says. The two have stayed in touch since then and Toyoshima, who has always appreciated Luse's work, says that over the years Luse has "honed his skills".
The "New Normal" series, and all of the LunchTime ComiX tapes, allow audiences to dive into a slice of Luse's life, and in doing so, readers can explore and hopefully identify with the frustration, to the beauty and comedy present in all our lives.
---
Find LunchTime ComiX's "The New Normal" series and other bonus comics on Facebook.